SERVICE
Root Canal Treatment - RCT

Our restorative doctors are certified as root canal specialists and specialised endodontists at Dr. Ronin's Smilezone Dental Clinic. They have received specialised training in disease sticken teeth diagnosis and management.

There is evidence to support the claim that root canal therapy performed by an endodontist has a much higher success rate than that of a conventional dentist.

With the least amount of discomfort possible, we can save your natural teeth thanks to our improved abilities and cutting-edge equipment provides you the greatest result possible in the process.

What is a root canal procedure?
To save a tooth in which the nerves and blood arteries within the tooth have been injured or infected, endodontic treatment or root canal therapy is used.

This can be due to reasons such as:
Decay
Fracture/cracks
Leaky fillings
Trauma
Multiple dental treatment on tooth.
The purpose of treatment is to heal the affected tooth and the tissues around it. To restore chewing function and stop tooth migration, one option to root canal therapy is to remove the affected tooth and replace it with an implant, fixed prosthetic denture, or removable denture. However, none of the aforementioned choices are as successful as being able to keep your natural tooth and keep it in your mouth.
What happens during root canal therapy?:
Following the selection of the tooth for root canal therapy, local anaesthesia is used to achieve a sufficient level of anaesthesia. To make the treatment painless and to put the patient at ease, local anaesthesia is given.
The length of the root canal procedure will depend on the condition of the tooth and may take several visits or just one. Depending on the tooth's level of infection and the method of treatment, the majority of treatments require two to three visits.
Utilizing specialised files and devices, the contaminated tissues will be eliminated during these appointments. With the help of these specialised tools, the root canal cavity is then cleaned, sterilised, and expanded. This makes it possible to completely clear the canals of germs.
They are filled with "Gutta percha," a rubber-like material, once the area has been cleaned and formed. A temporary filling substance is used to close the tooth's opening before a permanent filling material is added later.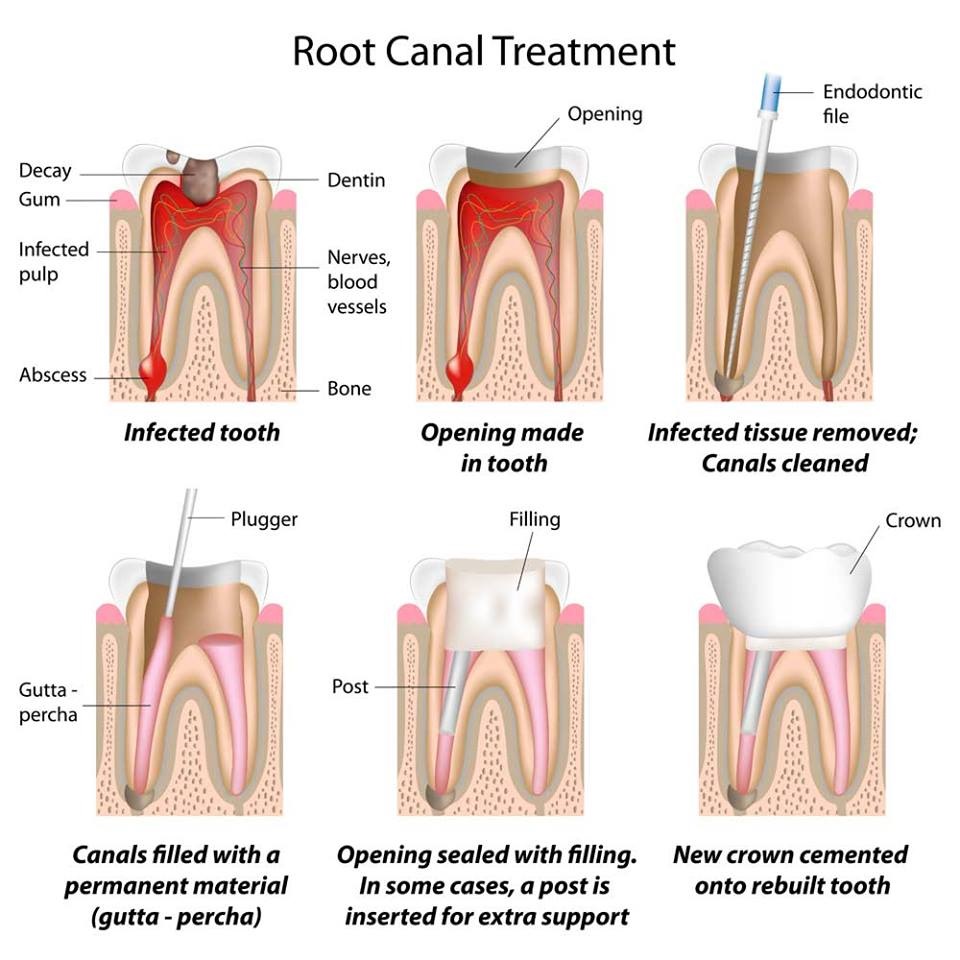 Post root canal care
Your teeth should be symptom-free and infection-free after root canal therapy. Root canal treated teeth can be naturally brittle and prone to shatter, thus you must attach a crown to provide strength and support in order to prevent that.
Upkeep and evaluation
br> We advise maintaining root canal repaired teeth with tooth brushing and flossing. To ensure that their teeth are healthy and intact, we also advise patients to have frequent checkups every six months.
Fact Sheet on Root Canal Safety
it is important for the general public to be aware that there is no solid scientific evidence linking certain medical conditions to teeth with root canals. Endodontic treatment is successful and dependable because it is carried out using such cutting-edge methods and innovations.